I'm sure you'll agree with me when I say: Content Distribution is hard.
You need to get your content in front of as many people as possible. But, finding the time to do it is almost impossible. Especially because distribution is, well…really boring, don't you think?
Especially as an SEO, where you have much more pressing and interesting work to spend your time on!
So how can you get the most distribution done in the least amount of time?
Well, you've come to the right place. Because in this article I'm going to show you how to get two hours distribution done in just 30 minutes…
What You'll Learn
The Real Reason You Need To Focus On Distribution
How To Use IFTTT Recipes To Save Time
Why New Content Isn't Key To Getting More Traffic
Where You've Been Wasting Time On Social Media
Switching The Focus Of Content Distribution
I hate it when people use the, "If a tree falls in a forest, does it make a sound?" analogy here, because for me it puts the wrong focus on distribution.
Distribution, at least from an SEO point of view, is to get people to see it, but in order for it to generate traffic in the future. How it performs right now is pretty inconsequential. Let me explain…
Take a look at this data from Hubspot. They found that 76% of their blog traffic comes from old content. And, by optimizing their old content, they've been able to double leads and drive 106% more traffic from them. That's a big chunk of traffic that can't be sniffed at.
And this shows that distribution is about:
Building links
Creating authority
Generating leads
More than that, it is about getting overall traffic to a single post.
For example, bloggers tend to think of posts in isolation. They write it, put it online, share it a few times, and forget about it. On to the next post and to get more traffic with that post, when you should really be focusing on distributing it so it can improve ranking factors to generate traffic over time.
In 2015, Buffer stopped publishing new content for 30 days. They saw an insignificant dip in their traffic: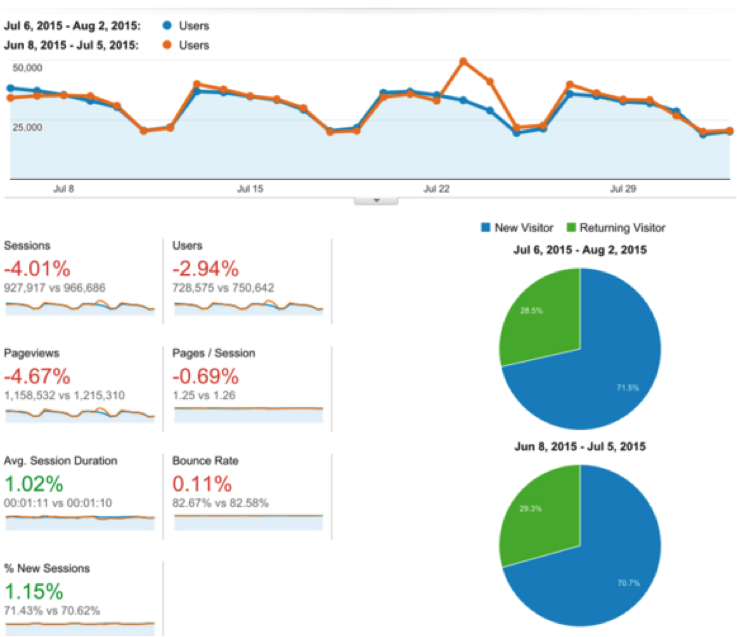 And, their organic search traffic – through only old and existing content – actually went up:

So instead of focusing on getting likes and shares and eyes on your post now, you need to switch your focus on getting it distributed in places where people are more likely to boost your ranking metrics.
3 Steps To 2 Hours Distribution In Just 30 Minutes
I want to make a little disclaimer before I head into this section. The first time around, some of these steps need some time investment – like setting up spreadsheets etc. – but in all the times after, they will save you a lot of time. So, just stick with the system to see great results.
Step #1: Take A Chainsaw To Your Distribution Strategy…
Right now, your distribution strategy sucks. Because you're spending a lot of time distributing to places that aren't bringing you results, in links or traffic or otherwise. So, it's time to cut out a huge chunk of the tasks you set yourself.
For example, let's look at social media distribution. You'll probably be trying to distribute on all channels, right? But that can be a complete waste of time, seeing as most of your audience isn't there.
So, instead, do the smart thing and focus on just one channel of distribution.
As you can see in this article from CoSchedule, successful content creators focus on one platform for distribution. It's easier to build a following, and get higher conversions, through one medium.
For example, Stuart Walker uses little paid traffic for his site Nichehacks, and he drives all of his social media traffic through Facebook: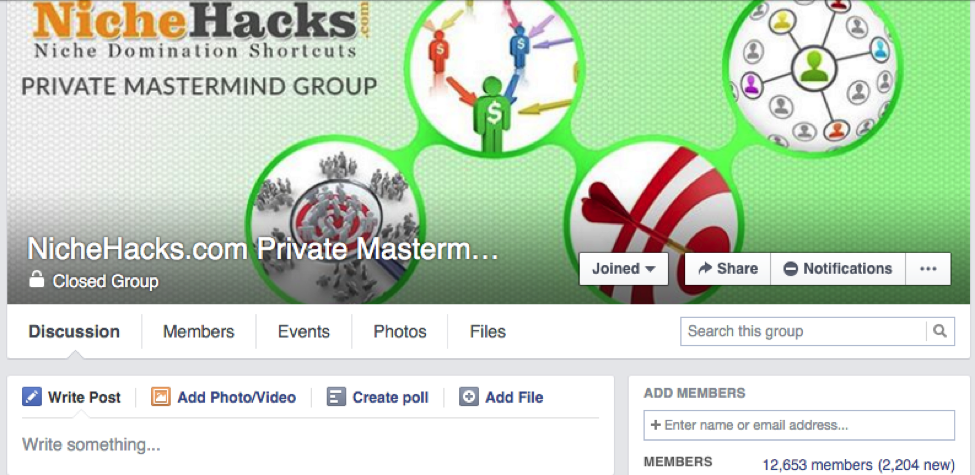 Because, even with organic reach between just three and six percent, that's still 360-720 people who will see his posts. And, instead of wasting time trying to build up three or four channels, he can build one up to epic proportions.
The same can be said for how you approach influencers, too. Instead of trying to find emails and contacts for every post, you can shave hours of time off by simply putting them all in one place, but more on that later.
So, before you move onto the next section, look at what is bringing you the most returns – across paid, owned and earned channels – so you can focus on only spending your time on them.
Try and list five places you should be spending your time on, and make a list out of them.
Okay, so that's cutting time away from them. Let's look at how to automate and refine your process to save a lot of time…
Step #2: Create An Influencer Spreadsheet
The quickest way to get links from authority sites is to reach out to influencers. Not only can they link themselves, but they can put your content in front of people who will link back to you, too.
Your posts are also more likely to go viral from their platform, and not your own. After all, they have far more people to reach than you do.
But, there's only so often you can contact these influencers, right? Wrong.
What has worked as a strategy for me is to create an excel spreadsheet of influencers that rotates between:
Social Media
Email
No Contact
So that I'm constantly contacting them (or having a week off) and letting them know about content that's been created and is relevant to their audience. The only time I break this cycle is if they've been mentioned in an article.

As you can see that sheet contains links and details for their contact on those platforms. Saving you time on finding the information and contacting these people.
You can even create templates for emails and tweets that you send out and rotate, with simple formatting boxes.
This shouldn't take you any more than 10 minutes once you've put the time in ahead of schedule.
Step #3: IFTTT Recipes For Success
If you're a WordPress blogger (which I hope you are) you can use If This Then That (IFTTT) recipes to automate a lot of your sharing process.
Head over to the WordPress Recipes page right here and you'll find ways to automate posting to social media (even across multiple channels, if you still feel you need to):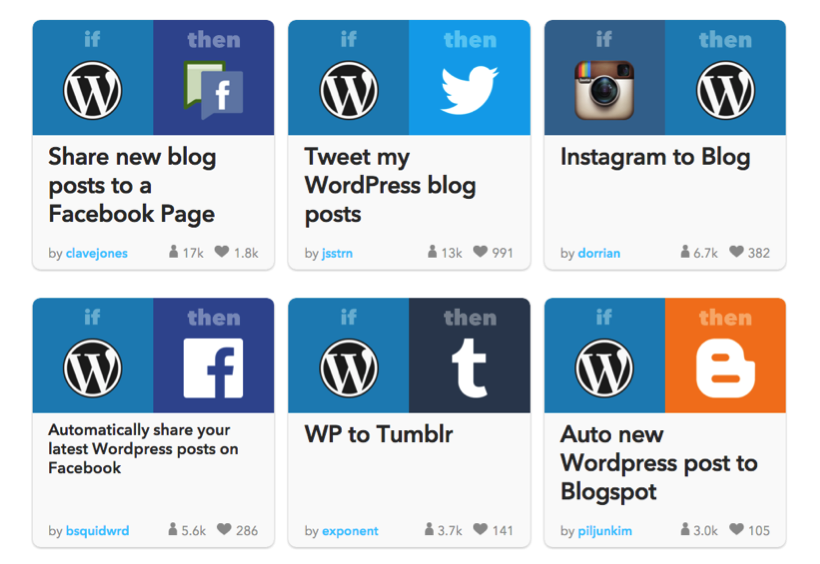 Personally I find this can save more time than using apps like Buffer, because they don't require the set-up and early entry of tweets. It means you can just get everything out there from the minute you hit publish.
IFTTT is a tool Matt Woodward uses to run a lot of his back of house activities, including sharing, so it's tried and tested for you, too.
You can watch this video for some extra hints and tips, too:
What Will You Do With Your Extra Time?
Okay, there you have it, how to maximize and focus your time on distribution for maximum results without wasting any excess time. Saving you a solid 90 minutes.
Here's everything you need in short so you don't have to read the article all over again:
Focus on building ranking factors like links and not single page traffic, the traffic will come later if you follow this method
Cut out all the crap and look for methods that bring results, don't focus on other methods because you feel you have to
Create a rotational spreadsheet of influencers to contact for each post, so you're constantly giving yourself opportunity to be shared, go viral and receive quality traffic
Use IFTTT recipes to share to multiple feeds in just a few clicks, saving you as much time as possible
So, where are you going to start?

9,697 total views, 1 views today